The Supreme Council Department of Membership Services is pleased to announce that online dues payment processing is now available to Scottish Rite members. Online payments are safe, convenient and easy. Simply click the  "Pay Your Dues" link located at the top right of our main page and follow the directions. All major credit cards are accepted, and your payment transaction is secured through 128-bit Secure Socket Layer (SSL) encryption, which is the Internet standard.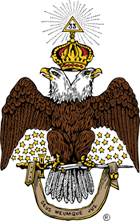 If you have questions or concerns regarding your payment amount, please contact your Valley Secretary. Thank you for using the online payment service.
Want to try it? Click here.