97 Year Old Enjoys Master Craftsman Study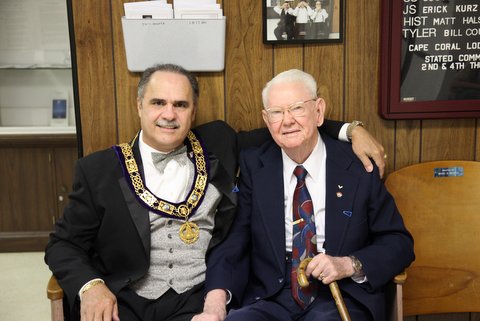 Ill. Bro. Jack Fleming, 33°, of Cape Coral, Florida is not afraid of a challenge. The 97 year-old is the senior charter member of the newly formed Cape Coral Master Craftsman Study Group in Cape Coral, Florida. The group meets on the first Thursday of every month in the library of Cape Coral Lodge No. 367 to go over each exam question collectively. The group's objective is to discuss one exam per meeting without sacrificing quality or cutting corners in the learning experience. The group is currently working on Quiz 4 of the Master Craftsman Course I.
Ill. Bro. Jack is a very active contributor who brings a wealth of knowledge and experience to the table. The members of the group are fortunate to have Brother Jack as a member and look forward to his continued participation. Bro. Jack is an inspiration to us all!
Photo: Ill. Jack Fleming, 33° with M.W. Jorge L. Aladro current Grand Master of Masons of Florida 2012
Article submitted by Herm Cardona, 32°