Valley of Richmond Holds Successful Scottish Rite Friends Dinner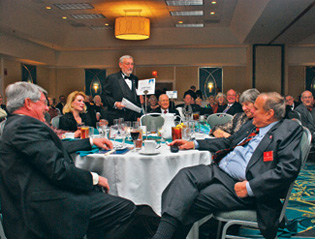 The Valley of Richmond, Virginia, held its Fourth Annual Scottish Rite Friends Dinner (SRFD) and Auction, Saturday, March 2, netting about $18,000 to be distributed to the Scottish Rite charities!
Richmond initiated SRFDs in 2010 and while the first dinner was profitable, the Valley leadership quickly learned its members were contributing heavily to many other Masonic charities, and some found it impossible to increase their contributions by supporting the SRFD. After the third event, the valley's SRFD committee recognized the importance of including "Friends," so members began contacting local businesses that traditionally had not contributed to the Richmond Valley Childhood Language Center.
The response was very positive. SRFD attendance in 2012 averaged 123, and after reaching out to "friends," the Valley of Richmond registered 228 guests for 2013!
This year celebrity guest Miss Jaime Hughes, reigning Miss Virginia United States, greeted SRFD patrons. For one fundraiser, the Valley sold 100 champagne glasses at $20 each. Ninety-nine of the glasses contained a cubic zirconium with the lucky glass containing a 1/4-carat diamond! They also held a silent auction preceding the dinner, which put on the block many unique items for all price ranges. After dinner, they held a live auction with donated items, including antiques, gifts from local merchants, an always-popular three-layer carrot cake, and an 8-foot replica of an East Coast lighthouse. Patrons who did not win items in the silent or live auctions still were given the opportunity to contribute via an appeal by the evening's auctioneers.
Plans for the 2014 SRFD already are under way, and the committee plans to exceed its 2013 success.
Does your Valley need funding? Why not host your own Scottish Rite Friends Dinner? As the Richmond Valley and others have demonstrated, a successful SRFD can invigorate base supporters and build towards future goals. For more information about hosting a Scottish Rite Friends Dinner in your Orient or Valley, contact Bro. Robert Heffelfinger, 32°, in the Development Office at rheffelfinger@scottishrite.org or 202-777-3111.