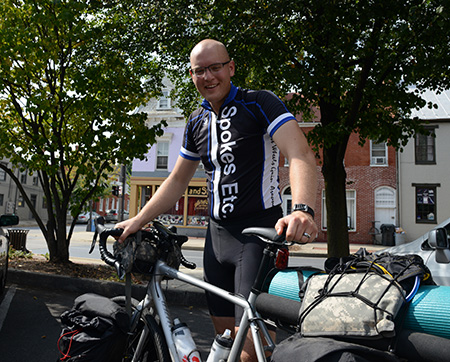 By Kyle S. Emmel, 32°
Staff Sergeant Kyle Emmel, 32°, starred in the Membership Services' video "Scottish Rite Sojourner" during the 2013 Biennial Session. Having some time off, Kyle wanted some help in planning a bicycle trip and asked Ill. Dean Alban, 33° Director of Membership Services, and Bro. Jay Patterson, KCCH, for assistance. Kyle gave some thoughts on his trip, here is his story.
Days 1 & 2
Having been stationed in the District of Columbia area a while and my time here being temporary, I try to travel by bicycle whenever I'm off duty to truly see the many areas of the city. Being from the great state of North Dakota, I missed seeing the countryside. A four-day pass was coming up and offered a great opportunity to get out of town and try to find a little adventure on my bike.
After looking at a couple of routes on paper I asked Jay Patterson and Dean Alban at the House of the Temple to help me put together the best plan. Two places I knew I wanted to see were Gettysburg and the Appalachian Trail. Both Jay and Dean recommended that once I cross over the Appalachian Trail that I head south and see the Antietam Battlefield.
The first morning on my new adventure found me riding from Arlington, Va., to Gettysburg, Pa., leaving D.C., and traveling along the Chesapeake & Ohio Canal. This route is a fun trail that runs 180 miles along the edge of a canal, parallel to the Potomac River.
Disembarking off the canal around mile 30, I continued north to Frederick, Md., where I was able to have lunch with Ill. Scott J. Cameron, 33° (right in adjacent photo). Scott had developed many communication systems that I have used in the Army, so we had a great conversation and lunch. Scott shared with me some of Frederick's history, showing me the great community bridge that has considerable Masonic influence painted right into it.
I made it to the Gettysburg Battlefield as the sun was going down. It was a very humbling sensation just to stand on the ground that decided so much of our nation's direction. It is truly a place to be sensed with the spirit more so than eyes and ears.
The second morning I left Gettysburg for a day of fly fishing and a night of camping at Pine Grove Furnace State Park. While at Pine Grove, Bro. Maynard Edwards of the new Susquehanna Valley in Maryland stopped by to interview me for his Masonic podcast. I shared with him how my time on the east coast and this current adventure has left me extremely proud to be part of the Masonic brotherhood.
Days 3 & 4
The third morning I headed south towards Antietam Battlefield. However, before arriving at Antietam, I rode into the small town of Waynesboro, PA, and right into a downtown street fair. Dean and Jay had given me Scottish Rite coins to give to the brothers I met while traveling. I asked a volunteer if he knew of any Freemasons at the fair. He said absolutely, relating a story of how a Masonic brother had assisted him in getting his daughters' care at a Shriners Hospital for Children. It was a great experience to offer him a coin on behalf of the House of the Temple.
I continued on that day toward Antietam Battlefield and stopped by Martinsburg, WV. Before leaving on my trip, I had connected with Bro. Louis Youngblood in Martinsburg seeking a place to stay on my last night. I must thank his wife Joyce for opening up their beautiful home to this strange bicycle traveler.
The next morning I said goodbye to the Youngblood family and headed back towards the C&O canal towpath trail. Having over a hundred miles to make it back to DC I was starting what would become the most difficult portion of the trip. My goal was to make it to Harpers Ferry by noon, have lunch and explore the town. That changed upon arrival in Harpers Ferry, 50 miles from DC, in late afternoon. At this point of the trip it was not a matter of riding in the dark but for how long.
Riding the Canal towpath alone, surrounded by woods, high humidity, hungry, and out of water, I encountered a quiet solitude. In that solitude my thoughts went to Afghanistan, my wife, and my life. Where have I come from, how did I get here and where am I going? Only in the darkness, miserable and thirsty, pushing past knee pain and desire to quit did my inner path become clearer.
To see and learn more of Kyle and his Sojourner Journey view the video at https://vimeo.com/78570574.