"A Guidebook to the House of the Temple" Now Available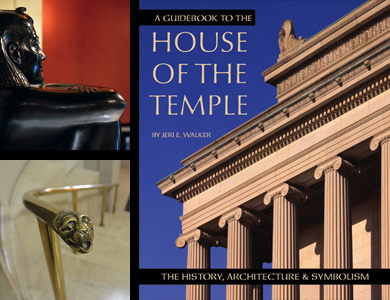 "We are building a Temple, a permanent home, in the Great Capital of the Greatest nation of the Earth."
—Ill. James D. Richardson, 33°
11th Sovereign Grand Commander, SJ, USA
(Oct. 22, 1901–Jul. 24, 1914)
Thus began the story of the current House of the Temple, headquarters of the Scottish Rite of Freemasonry, SJ, USA.
In celebration of 100 years since the Temple's dedication and opening at 16th & S Streets, NW, we are pleased to offer A Guidebook to the House of the Temple: The History, Architecture & Symbolism, by Jeri E. Walker.
Beginning with a narrative that traverses the Temple's timeline—from Richardson's dream to its modern reality—this beautifully illustrated guide then visually leads the reader through this magnificent structure with over 180 color photographs—many of which never have been published in print. Also included within the book are explanations of the Masonic symbolism infused throughout architect John Russell Pope's design.
132 pp., 8.375 in. × 10 in.
Price: $15* (plus shipping/handling)
You can purchase this title through our online store.
---
*Net proceeds from the sale of the guidebook go to support the Rebuilding the Temple Campaign to support the necessary rehabilitation goals of the House of the Temple.