Myth!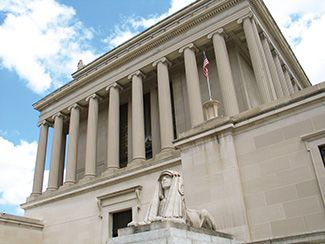 Each column is a monolith, meaning it was carved from a single piece of stone!
The Temple's stately Ionic colonnade is comprised of 33 columns, each 33 feet high, honoring the 33 degrees of the Scottish Rite. The colonnade surrounds a cella that houses the magnificent Temple Room. They were milled and executed by the Ingalls Stone Company, Inc., of Bedford, Indiana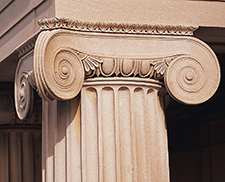 Ionic columns date back to the 5th century BC in Greece. The capitals of the Ionic columns feature an ornamental carving known as "egg-and-dart," which consist of oval shaped objects alternating with dart or arrow shapes (see photo right). This type of molding on Ionic capital is commonly found in ancient Greek architecture.
—From Jeri E. Walker, A Guidebook to the House of the Temple: The History, Architecture & Symbolism (Washington, DC: Supreme Council, 33°, SJ, USA, 2015).
Photography: Front of the House of the Temple, Elizabeth A. W. McCarthy; Column detail, © Maxwell MacKenzie, Washington, DC