As Robert Burns's birthday is January 25, it seems fitting that this month's "Featured Book" not only should be by Bro. Burns*—known as the Poet Laureate of Freemasonry—but also should feature his most famous work, "Auld Lang Syne."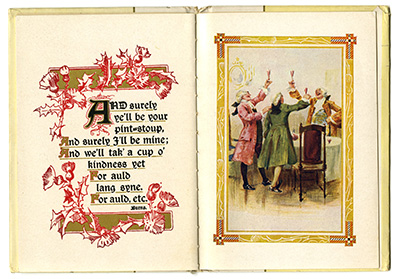 The little gem—measuring 13 x 17 cm—features the entire poem and contains colorful illustrations embellished with gold-metallic ink.
For Auld Lang Syne
is one of more than 5,000 volumes displayed in the Robert Burns Library at the House of the Temple in Washington, D.C. The collection originally belonged to Scottish Rite Mason William Robertson Smith, 32°, former director of the U.S. Botanical Gardens, and is the second largest of its kind outside of Scotland. In addition to works by Bro. Robert Burns, the Library contains works about him and about Scotland, as well as "Chap Books," some of which contain Burns's poems, and others which reflect the times during which he lived. To learn more about the Robert Burns Library, we invite you to visit the House of the Temple in Washington, D.C. You can find visitor information 
here
 . Additionally, a catalog of our Burns collection, entitled
Burnsiana: A Bibliography of the William R. Smith Collection in the Library of the Supreme Council, 33°, S.J.
, is available on our online store. *Robert Burns was initiated July 4, 1781, in Lodge St. David's No. 174, Tarbolton, Ayrshire.