Dedication of Long Beach Scottish Rite Theatre to Actor & Brother Ernest Borgnine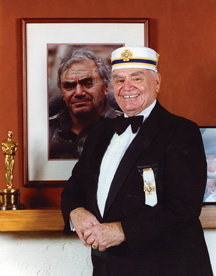 In 2000, Ill. Ernest Borgnine received his 50-year pin as a Mason in Abingdon Lodge No. 48, Abingdon, Virginia. He joined the Scottish Rite Valley of Los Angeles in 1964, received the KCCH in 1979, was coroneted a 33° Inspector General Honorary in 1983, and received the Grand Cross of the Court of Honour in 1991.
The Long Beach, California, Scottish Rite will be dedicating their theatre to Brother Borgnine on May 7, 2011. This once in a lifetime historical event is open to the public and will be featuring Entertainer, Norm Crosby. The Dedication and Reception will begin at 4:00 P.M. and the Banquet will be at 6:30 P.M. with limited seating.
This is a Black Tie affair. If you would like to meet Ernest and dine with him, please call the Scottish Rite Event Center office at (562) 436-3983 Tuesday through Friday, between 8:00 A.M. and 3:30 P.M. to make your reservations.  The Dedication and Reception only is $25.00 per person. The complete package including dinner is $100.00 per person. There will be free parking with Security Guards monitoring the lots. We accept Visa, MasterCard, and checks (payable to Long Beach Scottish Rite). We look forward to having you attend this momentous occasion.
For more information, see the Long Beach Scottish Rite website at: http://www.lbscottishrite.org/