100th Year Anniversary of the Cornerstone Laying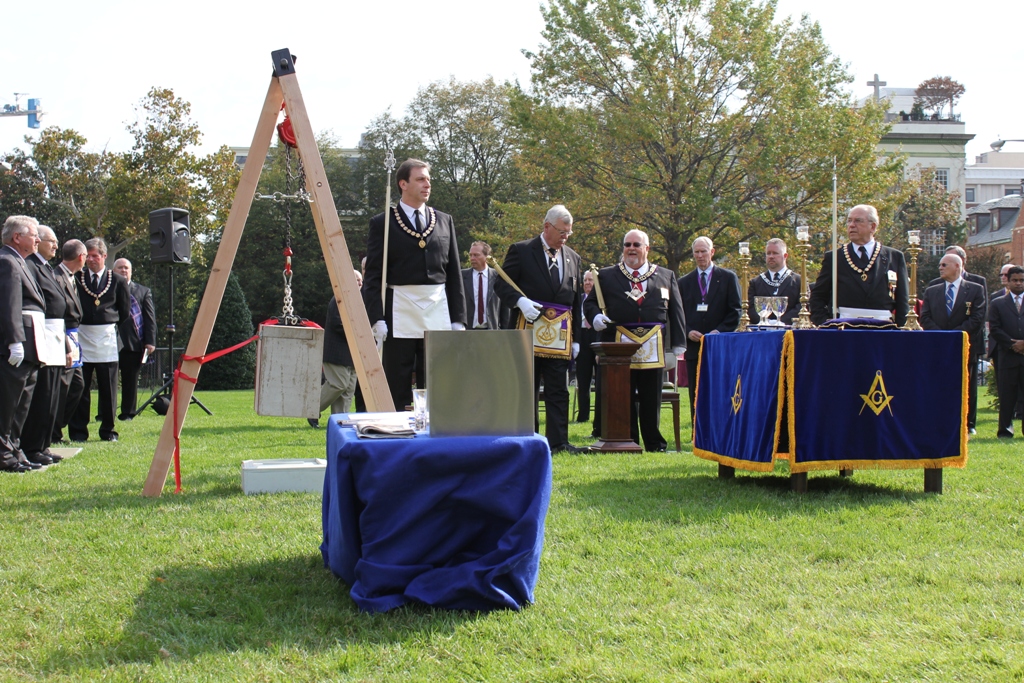 On Tuesday, October 18, 2011, the House of the Temple celebrated its 100-year anniversary of the cornerstone laying. It was conducted according to ancient custom by members of the Grand Lodge of the District of Columbia, assisted by officers from the Grand Lodge of the Commonwealth of Virginia and the Grand Lodge of Maryland. They performed the ritual of testing the stone with the jewels of their offices. Sovereign Grand Commander Ronald A. Seale honored the memory of our forefathers that assembled in 1911 to lay the original cornerstone as Brethren reenacted the laying of the cornerstone in 2011.
The trowel and gavel used in the ceremony were those used by George Washington to lay the cornerstone of the U.S. Capitol on September 18, 1793. The Bible was that used in the funeral of George Washington.
As the Scottish Rite of Freemasonry quickly approaches the centennial of the headquarters opening, we are pleased to announce the launch of the Rebuilding the Temple campaign. While still a site to behold, the House of the Temple has had few structural improvements since its completion, and it is our duty to prioritize the preservation and promotion of our headquarters in Washington, D.C. for our Masonic brethren and the general public. Essential projects include structural rehabilitation, accessibility and safety, preservation and education, and an endowment for future maintenance.
Check our website for regular updates on the Rebuilding the Temple campaign.
Photo on main web page and this page: Heather K. Calloway.