We're Energized & Celebrating!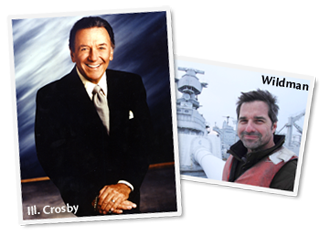 The 2013 Celebrating the Craft (CTC) webcast will not premiere until Sat., May 18, but at the House of the Temple, we already are in high gear. Our staff and the show's production team, The Carlin Company, have been working steadily finalizing details for the big night.
Introducing Our 2013 Hosts
We are honored to welcome back as our 2013 CTC host Illustrious Brother and famous comedian Norm Crosby, 33°, G.C.! Known for his use of malapropisms, Bro. Norm has entertained audiences with his comedy since the 1950s.
We also are pleased to announce Don Wildman of the Travel Channel will be joining Bro. Norm as co-host. A familiar face in documentary television, Don is the host of two current shows on the Travel Channel: Mysteries at the Museum and Off Limits.
Congratulations to Our Scottish Rite Has Talent (SRHT) Winners
CTC 2013 will feature performances by winners of our first SRHT contest. Brothers from the following Orients will travel to Washington, D.C., and perform live throughout CTC 2013 webcast: California, Florida, Hawaii, Minnesota, Missouri, Oklahoma, Tennessee, Texas, and Washington.
The musical styles of the winners run the gamut, so there will be something for everyone. You can read the full list of winners here.
Like last year's webcast, CTC 2013 will be a night of laughter, entertainment, and learning that pays tribute to the Fraternity and its members. We will feature never before seen footage from the House of the Temple, content highlighting local Valleys and their members, masonic scholars, leaders, and celebrities, video submissions from our Scottish Rite Heroes program, and so much more.
CTC is a wonderful way to bring Brothers together, have some fun, and also support Freemasonry's charitable endeavors. Viewers will be encouraged to make a donation via phone or online to be split 50/50 between the House of the Temple Historic Preservation Foundation, Inc. and Scottish Rite philanthropies in the donor's Orient as directed by his S.G.I.G. or Deputy.
How You Can Start Celebrating:
• Plan to join us and watch CTC 2013on May 18, from 6 pm to Midnight, EDT
• Visit www.scottishrite.org the day of the show on your home computer, laptop, iPhone, or iPad
• Click on the Celebrating the Craft Link that will be there the day of the show
• PC and Mac users will need to make sure that Flash is enabled to view the live stream
It's not too late to plan an event! If your Valley has not planned yet, there is still time to pull together something great! In his video about the CTC, Ill. Joe Manning, 33°, SGIG in Oklahoma, discusses how Valleys in his Orient got involved last year and what they have planned for CTC 2013.