Valley of Atlanta Honors First Responders with Arthur M. Kaplan Awards
By Valley of Atlanta Brethren
On September 5, 2019, the Scottish Rite Freemasonry Valley of Atlanta Presented the Arthur M. Kaplan Awards at the Atlanta Masonic Center. These awards are named for Judge Arthur M. Kaplan, a World War II veteran who, serving as a Navy Frogman, assisted medics on the ship on which he served that was struck 13 times. While serving as a judge, he rescued wounded police officers while under fire on several occasions. Bro. Kaplan was a member of Fulton Masonic Lodge No. 371, Free and Accepted Masons, and a member of the Scottish Rite, Valley of Atlanta. Although he passed away nearly ten years ago on January 1, 2010, his life as a First Responder is remembered in this award for those who put their lives on the line to save others today.
The Keynote Speaker for the evening was Right Worshipful Brother Moises I. Gomez, Grand Historian of the Grand Lodge of New Jersey. Bro. Gomez was working and responded to the terrorist attacks on our nation's soil in 1993 and again on September 11, 2001. Brother Gomez has presided over eight different Masonic bodies and holds membership in more than 40 Masonic organizations, research groups, and like societies. This night he honored several unique individuals in the Atlanta area who have heroically served as First Responders in emergencies.
Officer Brendan Branning with the Athens-Clarke County Police Department rescued a man threatening to jump from a bridge. Officer Tyler Eason of the Cedartown Police Department was also honored. Among many notables actions, he safely reunited an elderly woman with her family when she was reported missing from another jurisdiction. Matt Scott, serving the Suwanee Police Department since February of 1987, has been recognized for his 2008 apprehension of two bank robbers after a high-speed chase. Sergeant Donnie Waynick, retired of the Atlanta Fire Department, once observed a frantic woman holding a child. He pulled over and observed that the child was in distress and not breathing. Waynick acted quickly and was able to dislodge an object on which the child was choking, and the child's life was saved. Others honored as first responders were Deputy Kevin Ferraro, Officer Jason McKinnon, Major Michael Seymour, Sgt. Ashley Still, and Lt. Mark Tippins, Sr. (retired).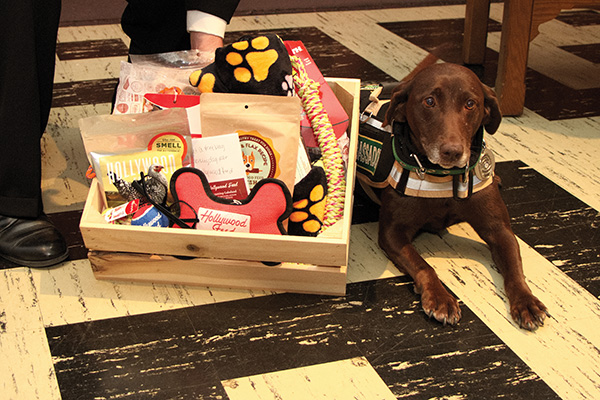 Finally, we must also make mention here of Canine Officer Ginger! Ginger became the first K9 officer of the Georgia Gewinnett College Police Department in 2011. She was initially trained and utilized for narcotics detection, but, as of April 2018, she transitioned into her new role as "Police Ambassador" K9. She has brought smiles to both the young and old. When not at work, Ginger sleeps on her couch and tries to get the toys with which her "big brother" Loki plays "keep-away."
How appropriate and inspiring for community service that the Valley of Atlanta has recognized these heroic "first responders" with its Arthur M. Kaplan Awards!
---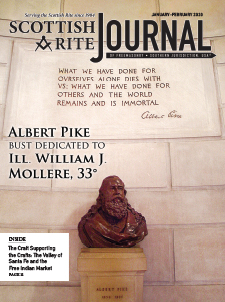 This article originally appeared in the January/February 2020 Scottish Rite Journal, p. 13.
---
Photo: "Officer Ginger" was a hit with Scottish Rite Masons