Master Craftsman Study Groups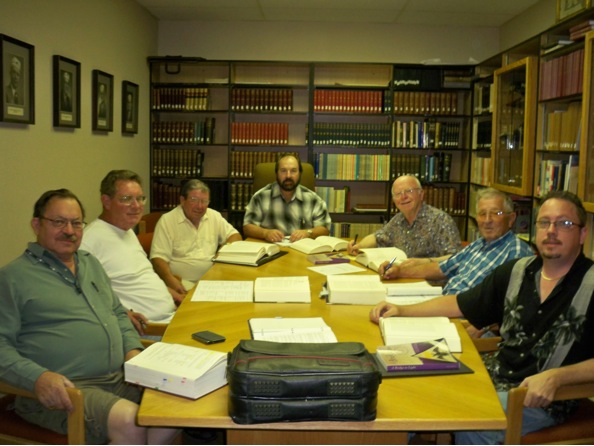 (The information is for those wishing to create Valley Master Craftsman study groups. For information about the Master Craftsman USB, please visit the Master Craftsman Group Studies page.)
Photo: Members in Idaho at a Master Craftsman study group.
A group setting is far and away the best way to learn and experience all that these programs have to offer. This is simply because Freemasonry is not a solitary pursuit, but rather a social experience—we gather in Lodges together for a reason! In fact, social engagement while finding more light in Masonry can be (and often is) more rewarding than simply answering some questions about a reading assignment. This is because you are learning not only about yourself through the ritual and its symbolism, but about others and their unique relationship to the deep philosophies and mysteries that are contained in the material, too.
A group can be as big or as small as you like. There are no minimum requirements to start a study group, and anyone can be the catalyst that starts one up. You also set the pace. Go as fast, or as slow as you would like. You can meet once a week or once a month. Your schedules will dictate the best calendar.
It can also be as formal or as casual as you'd like. Does there need to be set meeting dates, or will you meet whenever everyone has finished the next reading assignment/quiz? Your meeting place can be someone's house, a conference room, or a comfortable booth in the neighborhood diner or tavern.
The key with all of this is to have fun, and to engage each other about the meanings of Freemasonry and life itself. In fact, using that goal, finishing the programs becomes a distant second to connecting with other people who have similar interests and learning through more about each other through the shared experience of conversation and fellowship.
To help the interested group seeker or leader, we have put together a short Group Leader Guide that helps navigate the logistics and details of forming a study group. If you are interested in this, please contact us and we will be happy to share it with you free of charge, and to assist you in any way we can with the formation and operation of your own study group.
Questions about the Program?
Please send an email to mastercraftsman@scottishrite.org.