Featured Article: Walter Caughey Fox—From English Dentist to Alaskan Miner
By Monica Varner | House of the Temple Museum Intern |
The two collars in the museum's collection today speak to Dr. Fox's strength of character which allowed him, an Englishman born to privilege and wealth, to thrive and succeed as an Alaskan frontiersman!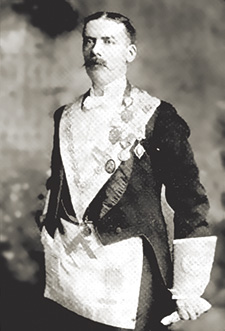 The House of the Temple's museum houses a marvelous collection of international Masonic regalia that ranges in variety from eighteenth-century French sashes to contemporary aprons from Mexico. Each object has a unique story, including the two small English Masonic collars which tell the intriguing tale of the family of Walter Caughey Fox and their life-changing journey which begins in Sheffield, England, and ends in Eagle, Alaska, at the beginning of the twentieth century. The two Masonic collars in the collection are made of light blue grosgrain fabric trimmed in gold braid. Both collars have pewter Past Master pendants with engraved messages on the backs commemorating Walter Fox's role as Worshipful Master of Masonic Lodges in London and Sheffield, as well as displaying pendants of his offices held as Junior Deacon and Past Master. These pendants illustrate the high regard in which Fox was held in his Lodge as well as the importance of Masonry in his personal life. But how did the well-to-do English doctor and gentleman of the late nineteenth century, highly respected by his Masonic and medical peers, become the Alaskan gold miner in the early twentieth century? The journey is captivating. Along with historical records, much of what we know about the Fox family is recorded in Betty Wyatt's book about Walter's daughter:
Jessie: The Story of a Genteel Lady in Frontier Alaska
. The book, based on diaries, letters, and personal affects purchased by Wyatt after Jessie's death in 1969, is an elaborate version of the family's history, beginning with their home in Sheffield to their claim in Alaska.
The Foxes in England
Walter Caughey Fox was born in 1856 to William Fox of Snig Hill, in Yorkshire, England. Walter became a surgeon dentist and began practicing in Sheffield in 1878 at the age of 22. In 1888, Walter married Jessie Helen Rebecca Ellis, daughter of timber merchant John Ellis, and they had two children, Jessie Elizabeth and Albert. Around 1900, the family was living at Kenwood Glen at Cherrytree, an estate south of Sheffield that was later destroyed in the Sheffield Blitz of 1940. He worked as of 1911 at 8 Castle Street, home of the "botanical pharmacy" of William Fox & Sons. The pharmacy was founded in 1840 by his father William Fox, an herbalist, and was in business as late as 1925. Walter's brother, Alfred Russell Fox, was a chemist, optician, and medical botanist who also worked at the pharmacy. Alfred also helped edit new editions of his father's publication,
The Working-Man's Model Family Botanic Guide
, a do-it-yourself styled herbal remedy guide, popular in England at the time. The paper was published from about 1852 to 1932. The periodical was "a very successful publication for both Fox and his sons, A. Russell Fox and Walter C. Fox," according to one source.
Figure 1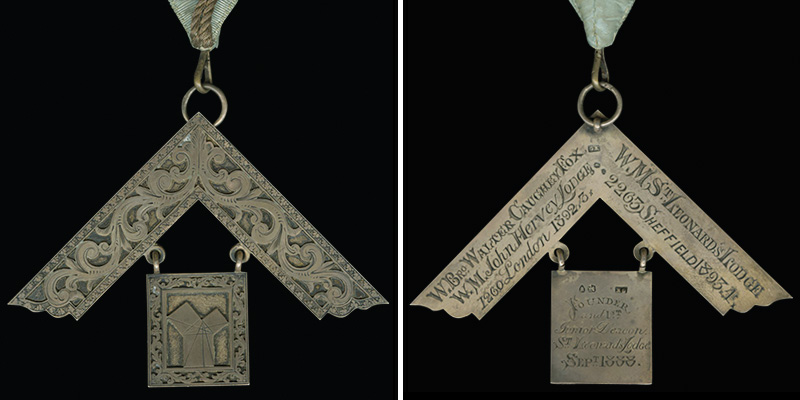 Walter C. Fox and Masonry
Walter Fox was the Worshipful Master of two Lodges in England: John Hervey Lodge No. 1260 in London, and St. Leonard's Lodge No. 2263 in Sheffield. John Hervey Lodge received its Warrant on March 31, 1869. The Lodge closed and surrendered its Warrant in 2012. Walter C. Fox was Worshipful Master at John Hervey from 1892 to 1893, during which period William Fox & Sons was located at 56 Snig Hill in Sheffield. At St. Leonard's Lodge in Sheffield, Walter was the Worshipful Master and founder, and had served as the first Junior Deacon. The Lodge was consecrated in 1888 and is still active in Sheffield today. According to a newspaper column of 1894, Fox was "installed W.M. in 1893; he was exalted into Royal Arch Masonry in 1887… advanced in the Mark Master Mason's Degree in 1887… installed in the De Furnival Preceptory No. 66 of Knights Templar [in] 1888," and was a very active participant in several chapters and Masonic philanthropic groups.
Figure 2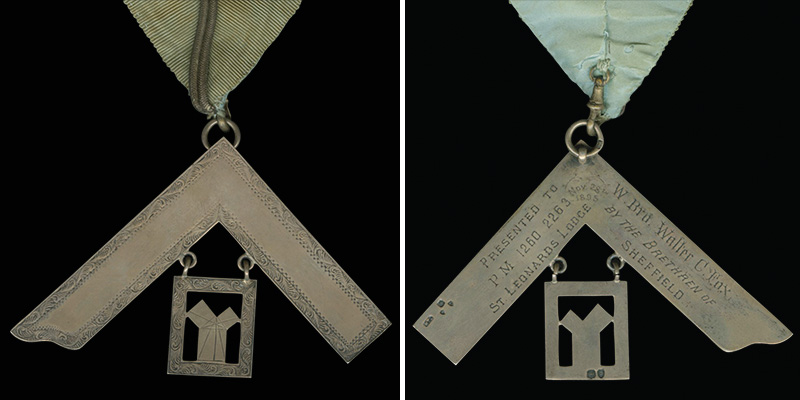 Westward Ho!
Around 1904, his son Albert announced his decision to travel to California to participate in the gold rush, to his parents' chagrin. His father, and possibly his older sister Jessie Elizabeth, visited him in 1908. A few years later, Jessie Helen, Walter's wife, had become ill and she wished to see her son before she worsened. In 1911, the family, including Jessie Elizabeth's new husband, Herbert Barber, packed up their estate to visit Albert in Kennett, California. The Foxes arrived in New York City on the Lusitania on January 5th, 1912. Unfortunately, they would never see their home in Sheffield again. When Jessie Helen became even more ill while travelling in Alaska, the family began making preparations to return home, and sent a telegram to England to have money wired for the return trip. Unfortunately, World War I had erupted in Europe, making bank access impossible. The Foxes were stranded in the frontiers of Alaska! The family decided to make the best of it. Walter began working as a prospector on a claim in Eagle, Alaska, a small settlement near what is now the border between Alaska and Yukon Territory, Canada. In 1918, when the war ended, the Foxes were able to retrieve their money and possessions from England, but chose to stay in Eagle. They were later joined by their son, Albert, and his family. Walter joined two Alaskan social-fraternal organizations, the Improved Order of Redman's Chetuthutlie Lodge No. 6 and the Arctic Brotherhood's Camp Eagle No. 13. The Improved Order of Red Men was established in 1834, inspired by the Boston Tea Party, in which the protesters disguised themselves as Mohawk Indians. The Arctic Brotherhood was established in 1899 in Alaska by arriving miners, and at its peak had 30 camps and 10,000 members. After Albert and his family moved back to California, these lodges were an important source of social gatherings for the family and brotherhood for Walter. After Albert died in an accident around 1918, members of the lodges helped the family move to Walter's mining claim. Around 1926, the Foxes and Jessie's new husband, Archie Mather, moved to Seattle, WA. After his wife passed away in 1927, Walter married Dora J. Wilson. The two moved to a new home in Seattle and lived there until 1942. Meanwhile, Archie and Jessie moved back to Eagle to continue working on the claim Walter had begun in 1918. The Red Men Lodge continued to be a haven of social activity in an unforgiving land. The couple often participated in events and gatherings associated with the Lodge. Masonic Lodges were established in Alaska in the early twentieth century, and there are currently 19 active Lodges in the state. However, remote settlements, such as Eagle, were too far from larger cities to participate in the established Masonic organizations. Settlers in Alaska established home-grown fraternal organizations such as the Arctic Brotherhood, or remote branches of national groups, such as the Improved Order of Red Men that would provide the same sense of community and brotherhood as the Lodges they belonged to in the towns and cities they left for Alaska. For Walter Caughey Fox, who was merely a tourist when he arrived in 1913, membership in the Red Men Lodge and Arctic Brotherhood must have been crucial to both his and his family's ability to make the most of a seemingly irreparable reversal of fortune. The two collars in the museum's collection today speak to Dr. Fox's strength of character which allowed him, an Englishman born to privilege and wealth, to thrive and succeed as an Alaskan frontiersman!
---
The text of this article originally appeared in the
January/February 2017
issue of
The Scottish Rite Journal
—available online and via the free app for Apple and Android devices, just visit your preferred app store and search "Scottish Rite Journal."
---
Image Captions/Credits:
William C. Fox in Worshipful Master Regalia, c. 1894.
(Credit:
The Freemason and Masonic Illustrated
, 1894.)
Figure 1. Collar, English. Silk grosgrain, gold trim, and pewter. c. 1890s. 2016.12.334 Inscription: "W. Bro. Walter Caughey Fox, W. M. John Hervey Lodge, 1260 London, 1892-3; W. M. St. Leonard's Lodge, 2263 Sheffield, 1893–4. … Founder and 1st Junior Deacon St. Leonard's Lodge, Sept. 1888."
(Courtesy the Archives of the Supreme Council, 33°, SJ, USA)
Figure 2. Collar, English. Silk grosgrain, gold trim, and pewter. 1895. 2016.12.335 "Presented to W. Bro. Walter C. Fox, P. M. 1260 2263 St. Leonard's Lodge by the Brethren of Sheffield, Nov. 28th 1895."
(Courtesy the Archives of the Supreme Council, 33°, SJ, USA)